2024 WorldSBK calendar announced
ITALIAN ROUND – CREMONA CIRCUIT
20-22 SEPTEMBER 2024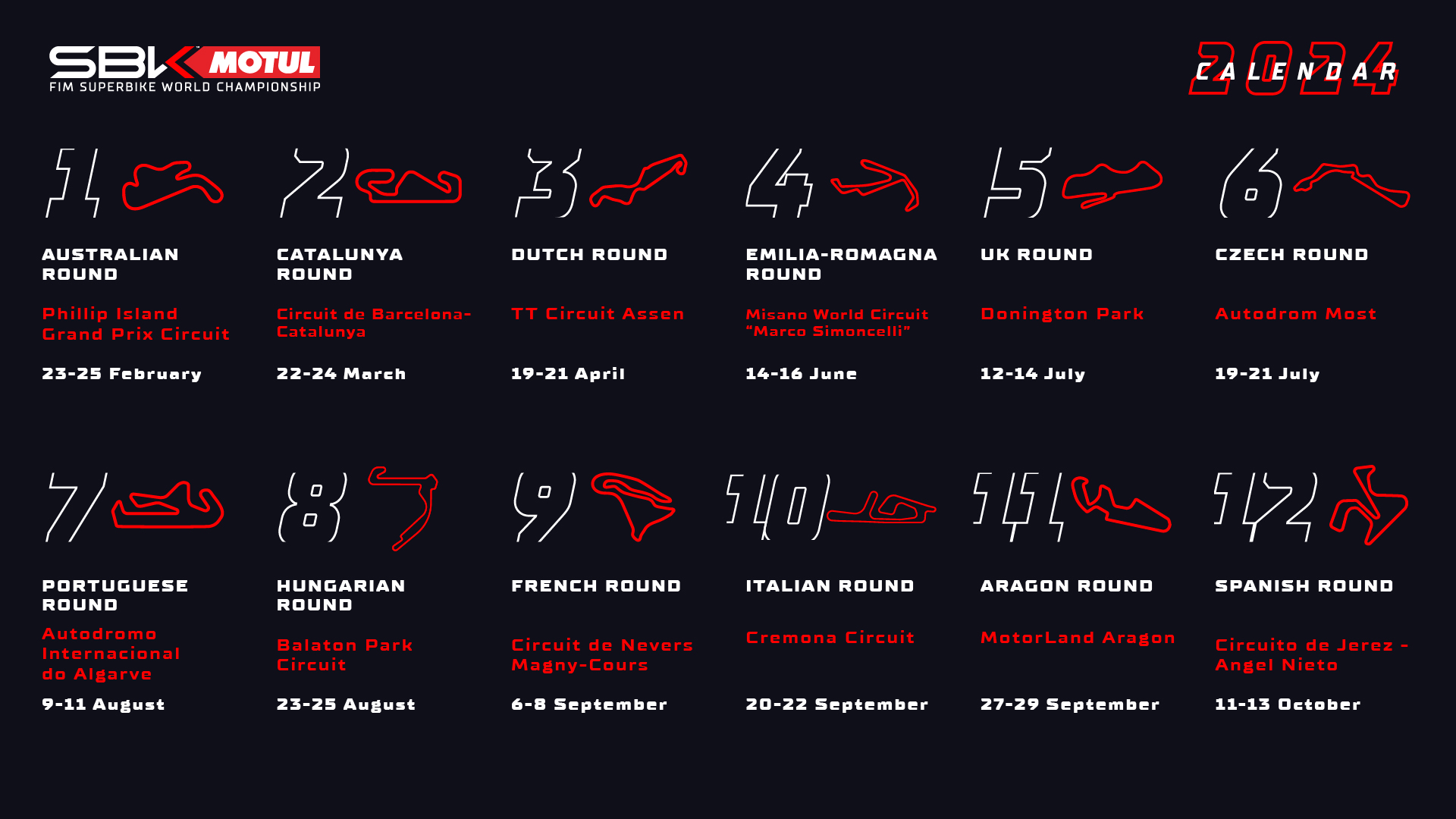 CREMONA CIRCUIT IN 2024 WILL HOST A ROUND OF THE SUPERBIKE WORLD CHAMPIONSHIP FOR THE FIRST TIME IN ITS HISTORY
AFTER 10 YEARS, THE ITALIAN ROUND OF THE SUPERBIKE WORLD CHAMPIONSHIP RETURNS TO NORTHERN ITALY: CREMONA CIRCUIT WILL HOST ROUND #10 OF THE WORLD'S MOST IMPORTANT CHAMPIONSHIP FOR PRODUCTION BASED MOTORCYCLES.
SEVERAL IMPROVEMENTS TO THE TRACK AND TO THE EXISTING STRUCTURE ARE COMING SOON.
Cremona – Italy 26/10/2023 – The date for the return of the Superbike World Championship to northern Italy has been set: from September 20 to 22, 2024, the gates of the racetrack named after "Angelo Bergamonti", the Cremona Circuit, will open for the first time in its history.
The publication of the provisional calendar of the MOTUL FIM Superbike World Championship 2024 took place on October 26, 2023. The big surprise for all fans was the inclusion of Cremona Circuit (along with Balaton Park Circuit-Hungary) in its provisional calendar. Being the two new additions to the championship, they will be subject to homologation, which will happen in a short time, (since the contract signed by the Lombard circuit with Dorna WSBK Organization, will bind them for the next 5 years, from 2024 to 2028).
The grids currently confirmed for round No.10 of the 2024 World Championship will be three:
WorldSBK / WorldSSP / FIM WOMEN'S MOTORCYCLING WORLD CHAMPIONSHIP
The Lombard circuit is of modern conception and has been designed by Jarno Zaffelli's Studio Dromo (designers and consultants of the most important racetracks in the world); it is geographically located a few kilometers south of Milan and is being prepared in the best possible way for this first important event, applying several important modifications and improvements.
The interventions that the Cremona Circuit property will put in place following project approval will be as follows:
–        updating track layout, with major modification of the last section of the track: changed layout for turns #11-12-13 (overall lengthening of the track by about 90 meters).
–        resurfacing with very high-quality material of some sectors of the track, which currently require maintenance;
–        installation of grandstands and areas adapt to receive the public and personnel of such an important competition. Estimated capacity after the improvements: 25 thousand people;
–        construction of new a modern structure that will hold offices for the Race Direction and all related personnel.
Alessandro Canevarolo (Cremona Circuit CEO):
"We are really happy, excited and hyped for this new great challenge. It will be an opportunity to take an extra, important step to grow, and with great satisfaction bring back the Superbike World Championship to northern Italy and Lombardy, which had been missing for ten long years. After some negotiations, we immediately got to work to make the necessary changes for hosting this major event. Together with the management, the goal is to create an event that can showcase the area, the region, and represent Italy in all its values. The goal has been clear ever since I started this adventure 8 years ago. We started from afar, facing every moment with great spirit, passion, and dedication. Only in this way were we able to fulfill the big dream: seeing the Superbike World Championship race on the asphalt of our Cremona Circuit"
Gregorio Lavilla (WorldSBK Executive Director):
"WorldSBK is thrilled to introduce Cremona Circuit to the 2024 MOTUL FIM Superbike World Championship. The addition of Cremona to our calendar marks a significant milestone and we're fully committed to delivering top-quality racing experiences to our fans. This five-year agreement stands as a clear testament to that unwavering dedication as we're looking forward propelling this venue onto the global scene."
Angelo Acosta
Press & Communication Manager
Cremona Circuit
E-mail: press@cremonacircuit.it